DRIP IRRIGATION: THE SECRETS OF THE BEST IRRIGATION SYSTEM FOR POTS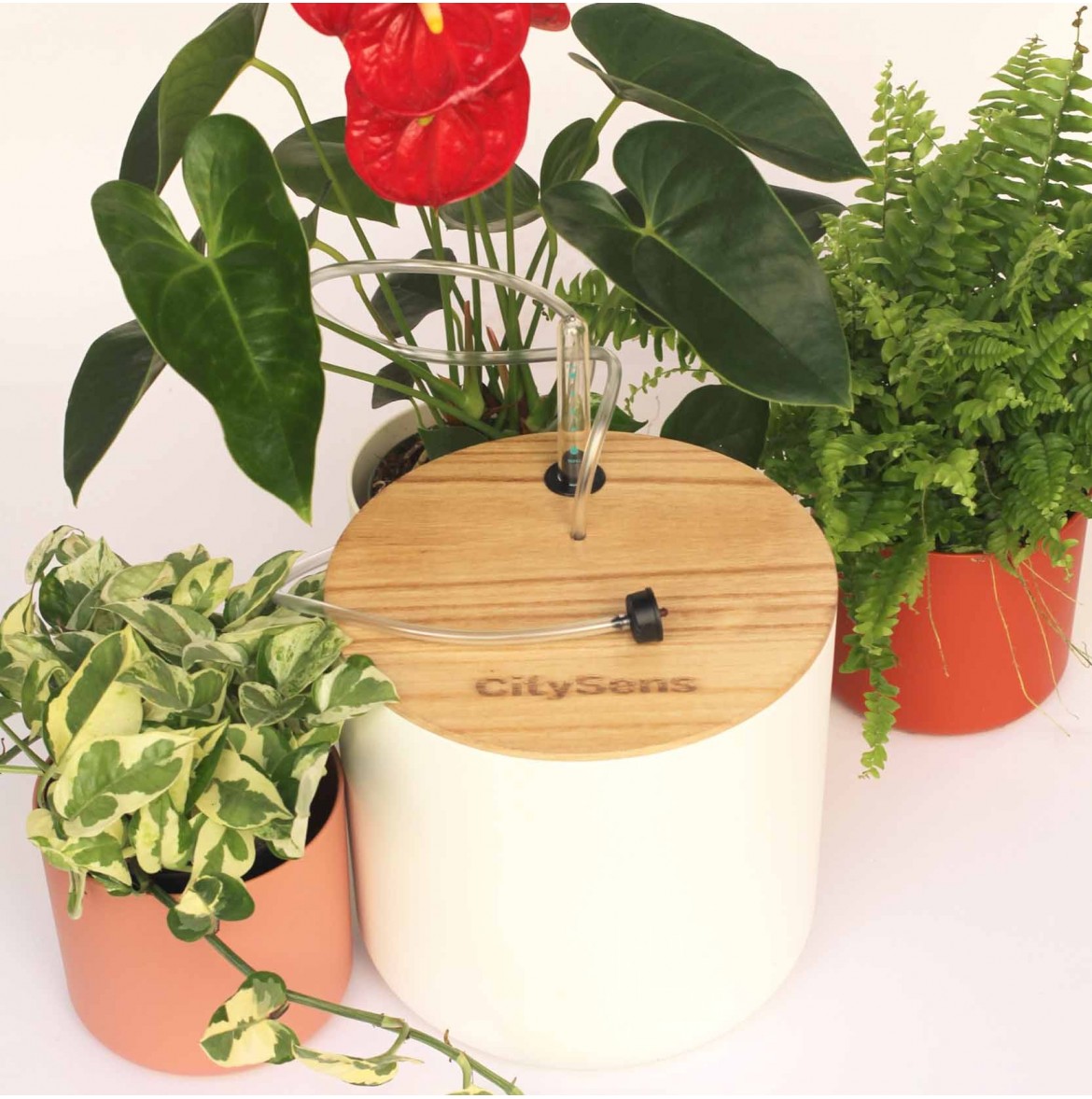 The automatic watering system is ideal for pampering all your plants and forgetting about watering your plants on vacation. 
Now that the heat of summer is approaching, our plants need more water, but overwatering the plants with the possibility of waterlogging the roots is just as bad for them as if they dry up.
With our drip irrigation you get an automatic, homogeneous and clean irrigation system with which you won't have to worry about your green friends, not even during your holidays.
.
.
ADVANTAGES OF THE DRIP SELF-WATERING SYSTEM
The main advantage of a drip irrigation system is precisely that it works with a drip system, saving a lot of water since it only uses the quantity it needs and what you have set previously.
It is cleaner, since when falling drop by drop, the dirt doesn't soil plates or shelves. In addition, our irrigation system for pots is so beautiful that it almost looks like another pot, yet leaving the spotlight to those who deserve it: our plants.
The irrigation is much more homogeneous, which is the optimal way to water our plants, without sudden changes in the amount of water the plant receives.
This is ideal especially during the holidays where we tend to leave them soaked before leaving, praying so that when we return they have not dried up or having to bother friends and neighbors to keep an eye on them in our absence.
Thanks to its airtight lid it prevents light from passing through, which could generate algae in the water, and prevents mosquitoes from drinking the water from your plants.
We use compensated pressure drippers, so they give the same irrigation regardless of the height of the plantor how far away it is from the irrigation tank. They also have an internal barrier so when the timer is off the water does not continue to flow.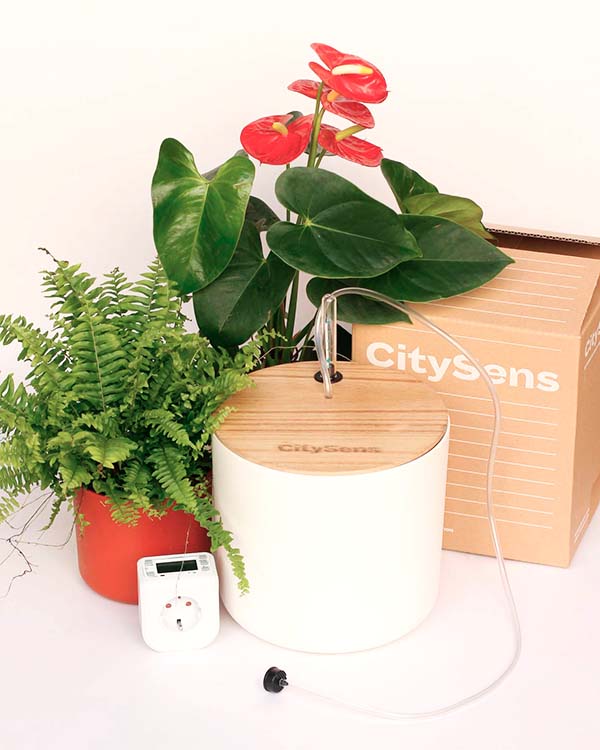 .
.
HOW TO ADJUST WATERING FOR POTS

For the irrigation frequency: the minimum is once a week.
For the irrigation time: the minimum is 1 minute
For the number of drippers: if your plant is very large or it needs more water than other plants in your oasis, give it a second dripper and voila!
The drippers provide 2L/h, so calculating the autonomy of drip irrigation for pots is very simple, the formula is:
.
Autonomy = 7 x 60 / (drippers x 2L/h x minutes)
.
So, by programming 1 minute a day, which is what most indoor plants need, it has an autonomy of:
38 days for 6 plants/drippers
18 days for 12 plants/drippers
11 days for 20 pants/drippers
.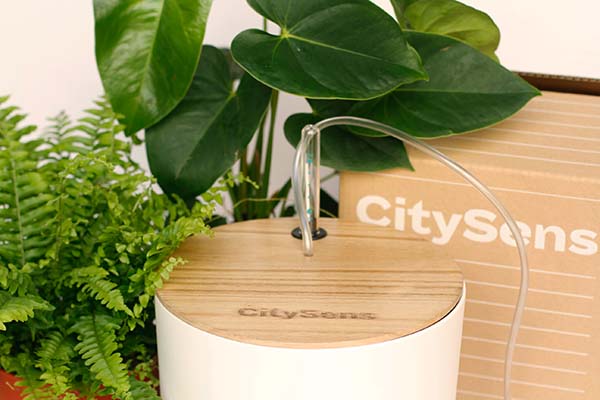 .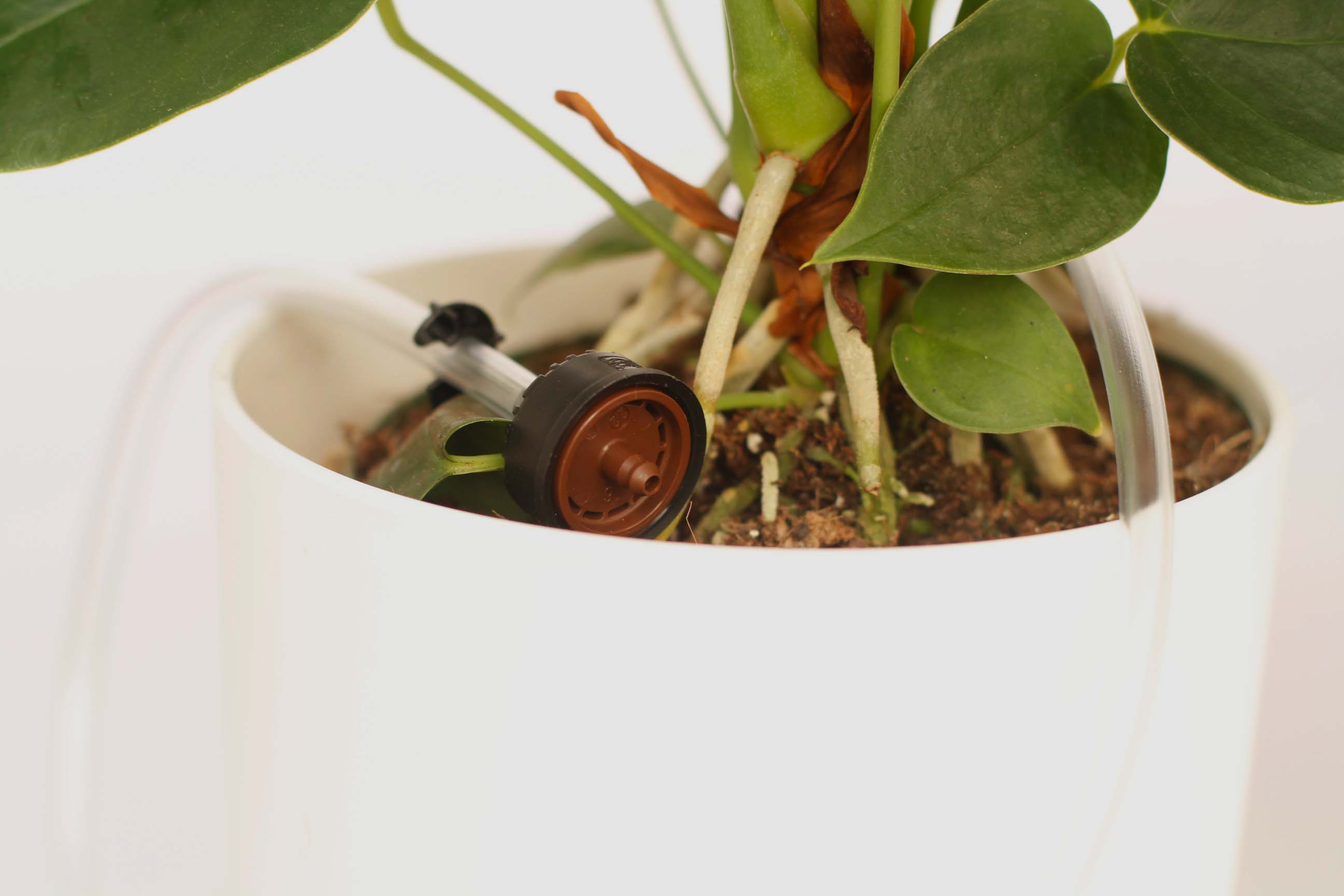 .
Checking when it is necessary to refill the tank is simple, it has a water level indicator that tells you at plain sight when the water is running out. It is important to fill it before it runs out completely, so that the water pump does not activate without having any water in the tank.
The maximum height at which you can have your plants with respect to the tank is 1.20 m , so if your plants reach the ceiling you can place the tank at the middle, so the tallest plant is maximum at that height. That way each one of your plants will have the water they need and will have a great summer.
According to us, there's no excuse for not having a drip irrigation system. Don't bother your neighbors anymore and have healthy and well-watered plants all year round.
.
.
MORE WATERING TIPS
.
.
Comments
No comment at this time!
Leave your comment