Black manual watering 100% recycled vertical planter
Manual watering vertical planter. 
Black mate color.
Customize it: choose the wood cover and the number of pots.
Includes planters and plant nutrients.
Made in Spain with social impact: mounted by people with different abilities. Choosing this product, you help us to promote their social inclusion.
FREE shipping within 48h. 2 years warranty.
WHY CHOOSING A CITYSENS GARDEN?
.

.
Award-winning design
Its design as decorative self-watering planter has been recognized with international awards: IF Award, European Design Award, German Design Award.
.

.
Customizable
Create an original and unique vertical planter: choose the color, number of pots, watering type and even the plant family.
.

.
Social responsability
We collaborate with the Santa Teresa Foundation and the Pere Mata Foundation (Tarragona), where people with different capacities assemble the product, thus promoting their labor and social integration.
.
.
WHICH IS THE BEST WATERING SYSTEM FOR ME?
Manual watering: it includes the vertical planters and the best nutrients for your plants.
The best solution for deco lovers who enjoy watering their plants.
.
CitySens also offers you:
Digital self-watering: the black self-watering vertical planter includes a digital timer, water pump, water level indicator and plant nutrients. It's a 30 to 60 days plant-sitter.
The best solution for long vacations or for those who don't have time to water the plants.
WIFI + APP self-watering: the black WIFI self-watering vertical planter includes the WiFi timer, APP for smartphones, water pump, water level indicator and plant nutrients. It's a 30 to 60 days plant-sitter.
The best solution for tech & plants lovers.
.
PRODUCT CHARACTERISTICS
- Materials: 100% recyclable UV resistant polypropylene, stainless steel, silicone and wood.
- Height: 82/115/148 cm for structures of 2, 3 and 4 pots respectively.
- Width: 29 cm at the base.
- Pot diameter: 13 cm.
.
PACKAGE CONTENT
- Base with wooden lid.
- 2, 3 or 4 pots according to your choice.
- Filter to prevent soil particles enter the irrigation system.
- Nutrients for plants.
- Silicone cap.
.
ASSEMBLY AND USAGE INSTRUCTIONS
Assembly: the CitySens garden can be assembled in 3 minutes, in the next video we show you how to do it step by step.
Watering: depends on the type of plant.
.
ORDER, SHIPPING AND GUARANTEE
You can pay by bank transfer or PayPal.
Delivery time is 24h to 48h.
You will receive an email notification confirming the order and the shipping.
Plants are shipped in a separate package, perfectly protected to ensure they arrive in perfect condition.
If you are not satisfied with the product, you can return it within 14 calendar days. We will manage the return.
If there is a manufacturing defect in your product the warranty covers the exchange free of charge for 2 years from the purchase.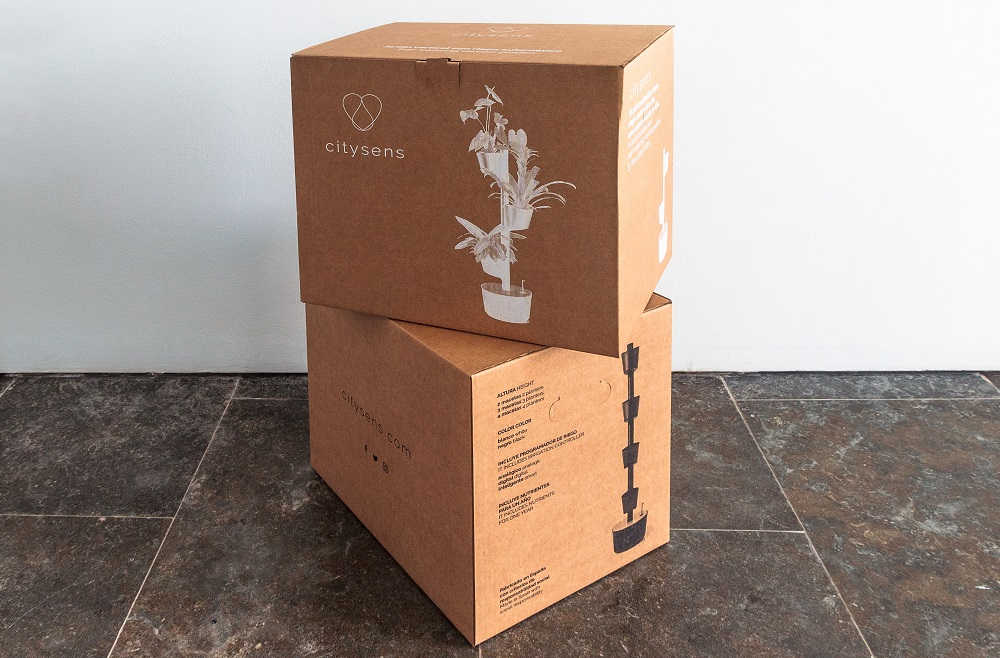 INTERNATIONAL AWARDS


producto y servicio excelente
Estamos encantados con nuestro jardín vertical, es un complemento ideal para cualquier rincón especial de la casa o la oficina. Prácticamente no tiene mantenimiento.
El servicio es exquisito, atento y puntual. Un placer!
Perfecto
Diseño muy bonito y moderno. Muy recomendable, con buenas calidades. Una idea muy original para tener las plantas de una manera elegante colocadas en el hogar.
 Write a review
Related products
(There are 16 other products in the same category)