Planter with 8 plants
Indoor vertical garden with 2 plants per planter, 8 plants in total.
Customize your garden: choose the planters color, the wood color, the watering type and the plants. We will add 4 hanging plants of your choice.
Made in Spain by people with functional diversity. Choosing this product, you help us to promote their social inclusion.
.
WHY CHOOSE A CITYSENS GARDEN?
.

.
Award-winning design
The design as decorative self-watering planter has been recognized with international awards: IF Award, European Design Award, German Design Award.
.

.
Self-watering
Forget about the responsability of watering your plants. The CitySens self-watering system will water them for you - so they always look beautiful.
.

.
Social responsibility
We collaborate with the Santa Teresa and Pere Mata Foundations (Tarragona), where people with functional diversity assemble the product, thus promoting their labor and social integration.
.
.
CUSTOMIZE YOUR OWN CITYSENS GARDEN
An oasis at home, a green corner in your studio, an urban garden to learn about nature in family...much more than a support for plants - the CitySens garden is an opportunity to enjoy more plants in any space.
.
WHAT ARE THE BEST PLANTS FOR ME?
You may add any plant type. Take into account all plants will be located in the same place, will receive the same light and temperature and will be watered at the same time.
Indoor spaces:
- Indoor green plants: spathiphyllum, calathea, syngonium, pothos.
- Indoor plants with flowers: orchids, anthurium, guzmania, clivia, calla. Ideal for spaces with lots of light.
Outdoor spaces:
- Aromatic plants: mint, parsley, basil, oregano, chive. Ideal for very bright kitchens or balconies.
- Outdoor plants: geraniums, hydrangeas, gerbera, tulips. Ideal for balconies and terraces.
You can even choose between conventional growing with soil or hydroponics without soil.
.
.
WHAT IS THE BEST WATERING OPTION FOR ME?
Digital self-watering: includes plants with soil, plant nutrients and the automatic irrigation system with a water pump and a digital timer. Ideal for busy people or those who don't have a green thumb.
.
WIFI + APP self-watering: includes plants with soil, plant nutrients and the automatic irrigation system with a water pump and a smart WiFi timer with app for smartphones. Ideal for tech lovers.
.
Manual watering: it includes the vertical planters and the best nutrients for your plants. The best solution for deco lovers who enjoy watering their plants.
.
GENERAL CHARACTERISTICS
Materials: 100% recyclable polypropylene and stainless steel, resistant to water and UV light. Waterproof wood. High-quality silicone tubes.
Net weight: 4kg.
Height: 82/115/148 cm for the structures of 2, 3 and 4 planters respectively.
Wide: 29 cm at the base.
Planter diameter: 13 cm.
.
KIT CONTENT
- 8 plants of your choice with mesh pots and filters.
- Base with water pump and water level indicator.
- Modular planters with filters to prevent soil particles enter the irrigation system.
- Programable irrigation timer: digital or WiFi according to your choice.
- Interchangeable mesh pots.
- Plant nutrients for 2 years.
- Silicone cap.
- User manual.
.
ASSEMBLY AND USAGE INSTRUCTIONS
Assembly: each CitySens garden can be assembled in 3 minutes. In the next video we show you how to do it step by step.
Digital timer: allows the weekly programming of up to 16 irrigations, with a minimum irrigation time of 1 min.
WiFi timer: weekly programming via smartphone or tablet up to 20 irrigations, with a minimum irrigation time of 1 min. Includes APP for iOS or Android.
Irrigation maintenance: if you use tap water, change the tank water every 6 months. If you use bottled water or rain water, change the irrigation water every 12 months. Clean the filters every 3 months.
Recommended irrigation : one irrigation per week of 2-3 minutes. In summer you can increase the frequency to twice per week if necessary.
Nutritrion: 10 mL of CitySens nutrients per 5L of water.
Plant care: prune the plant leaves once a month; prune the roots once every 3 months.
Plant-sitter: 30 days in summer, 60 days in winter.
Saves up to 50% of water and nutrients. Power consumption: 0.2 €/year.
.
ORDER, SHIPPING AND WARRANTY
You can pay by credit card or PayPal.
Delivery within 48h to 72h.
You will receive an email notification confirming the order, preparation and shipping.
Plants are shipped in a separate package, perfectly protected to ensure they arrive in perfect condition.
If you are not satisfied with the product, you can return it within 14 calendar. We will manage the return.
If the product has a manufacturing defect, the warranty covers free replacement for 2 years from receipt of the product.
.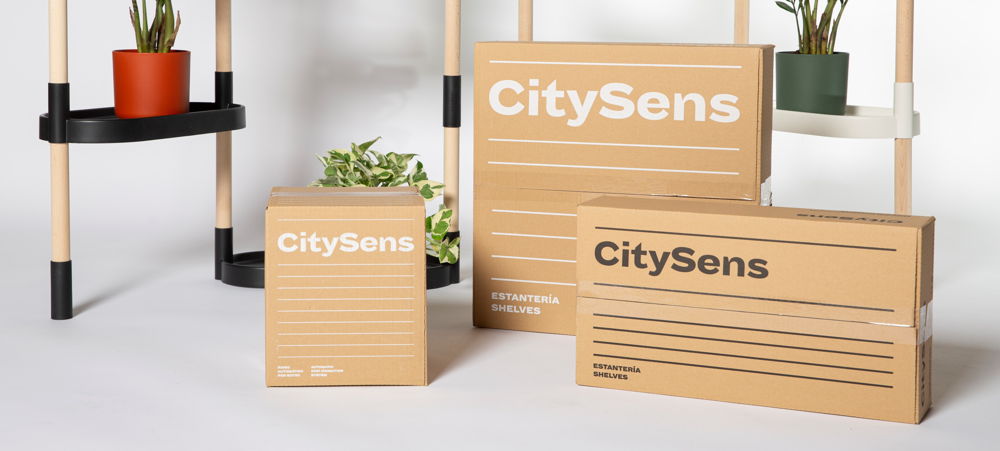 .
INTERNATIONAL PRODUCT DESIGN AWARDS


Buena atención
Estamos muy contentos con nuestras plantas y macetas citysens. Nos faltaba un componente y nos lo enviaron rápidamente.
It looks gorgeous
The plants are gorgeous and I will certainly order some more in a while !
As soon as I have found the final place for the planter, I will have great pleasure in sending you a picture.
Thank you again for all your valuable advice. Sophia
Es una selva
Tras 8 meses el jardín está muy bien. Es una selva!!!! Me encanta :-)
Es xulisim!
Montage molt fàcil, les plantes en molt bon estat, atenció al client impecable. Un plaer i li ha donat una vida a la sala d'estar impressionant.
Molt bé
Està funcionant de meravella, pel que veig, aquestes plantes duren més que les que tenía. Mostren molt bona salut.
Mi experiencia con el jardín
Estoy encantada con vuestro jardín, no me puede gustar más.

Sorprende a todo el que lo ve. Muchas gracias
Mi experiencia
Después de 6 meses el jardín está perfecto. Muy contento
 Write a review
Related products
(There are 16 other products in the same category)