Customize your own vertical planter CitySens of 3 levels
Enjoy your favourite plants in less space with the CitySens self-watering garden.
Customize your planter: choose the color, the wood color, the number of pots, the watering type and the plants.
Made in Spain by people with different abilities. Choosing this product, you help us to promote their social inclusion.
Free shipping within 48h. 2 years guarantee.
.
WHY CHOOSE A CITYSENS PLANTER?
.

.
Award-winning design
The design as decorative self-watering planter has been recognized with international awards: IF Award, European Design Award, German Design Award
.

.
Customizable
Create an original and unique vertical planter: choose the color, number of pots, watering type and even the plant family.
.

.
Self watering
Forget about the responsibility of watering your plants. The CitySens self-watering system will water them for you - so they look always beautiful.
.

.
Smart
Monitor the self-watering system from your smartphone. Technology at the service of your plants.
.

.
Sustainable
The CitySens garden is made in Spain with recyclable and recycled materials. In addition, it saves water and energy to protect the environment.
.

.
Social responsibility
We collaborate with the Pere Mata & Santa Teresa Foundation (Tarragona), where people with different abilities assemble the product, thus promoting their labor and social integration.
.
WHAT ARE THE BEST PLANTS FOR ME?
You may add any plant type. Notice, that all plants will be located in the same
place and will receive the same light and temperature and also will be watered at the same time.
Indoor spaces:
- Indoor green plants: spathiphyllum, calathea, syngonium, pothos.
- Indoor plants with flowers: orchids, anthurium, guzmania, clivia, calla. Ideal for spaces
with a lot of light.
Outdoor spaces:
- herbs: mint, parsley, basil, oregano, chive. Ideal for very bright kitchens
and balconies.
- Outdoor plants: geraniums, hydrangeas, gerbera, tulips. Ideal for balconies and terraces.
You can even choose between conventional growing with soil or hydroponics without soil.
.
WHAT IS THE BEST WATERING OPTION FOR ME?
Digital self-watering: includes plants with soil, plant nutrients and the automatic irrigation system with a water pump and a digital timer.
Ideal for busy people and those who don't have a green thumb.
WIFI + APP self-watering: includes plants with soil, plant nutrients and the automatic irrigation system with a water pump and a smart WiFi timer with app for smartphones.
Ideal for tech lovers.
Manual watering: it includes the vertical planters and the best nutrients for your plants.
The best solution for deco lovers who enjoy watering their plants.
.
GENERAL CHARACTERISTICS
Materials: 100% recyclable polypropylene and stainless steel, resistant to water and UV light. Water proof wood. High quality silicone tubes. If you find a stain on the vertical planter, it is due to the production process of 100% recycled and recyclable polypropylene.
Net weight: 4kg.
Height: 82/115/148 cm for the structures of 2, 3 and 4 planters respectively.
Wide: 29 cm at the base.
Planter diameter: 13 cm.
.
ASSEMBLY AND USAGE INSTRUCTIONS
Assembly: each CitySens garden can be assembled in 3 minutes; in the next video we show you how to do it step by step.
Digital timer allows the weekly programming of up to 16 irrigations, with a minimum irrigation time of 1 min.
WiFi timer: weekly programming via smartphone or tablet up to 20 irrigations, with a minimum irrigation time of 1 min. Includes APP for iOS and Android.
Irrigation maintenance: if you use tap water, change the irrigation water every 6 months. If you use bottled water or rain water, change the irrigation water every 12 months. Clean the filters every 3 months.
Recommended irrigation: one irrigation per week of 2-3 minutes. In summer you can increase the frequency to twice per week if necessary.
Nutritrion: 10 mL of CitySens nutrients per 5L of water.
Plant care: prune the plant leaves once a month; prune the roots once every 3 months.
Plant-sitter: 30 days in summer, 60 days in winter.
Saves up to 50% of water and nutrients. Power consumption: 0.2 €/year.
.
ORDER, SHIPPING AND WARRANTY
100% safe payment by bank transfer and PayPal.
Delivery within 48h to 72h.
You will receive an email notification confirming the order, preparation and shipping.
Plants are shipped in a separate package, perfectly protected to ensure they arrive in perfect condition.
If you are not satisfied with the product, you can return it within 14 calendar days. We will manage the return.
If there is a manufacturing defect in your product, the warranty covers the free replacement for 2 years from the date of purchase.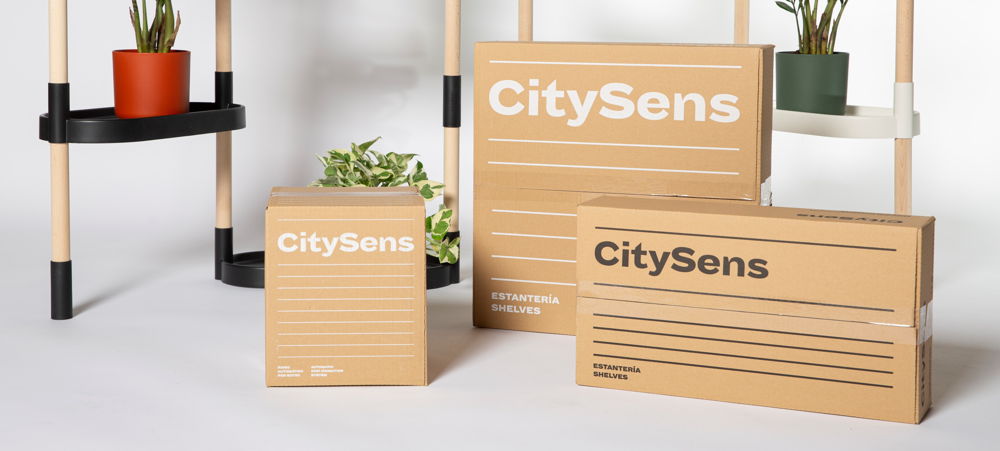 .
.
.
.
INTERNATIONAL PRODUCT DESIGN AWARDS


Related products
(There are 12 other products in the same category)